BANK COOP "UNDERWATER WORLD 2013" / TVC / STORYBOARDS
at Sehsucht, Hamburg. See the final film below the storyboards.

COOP "Underwater World 2013" (Racing) from Sehsucht on Vimeo.
Client: Bank Coop AG, Basel/Switzerland
Marketing: Mathias von Wartburg (Leiter Competence Center Marketing),
Barbara Guertler (Leiterin Kommunikation)
Agency: Ruf Lanz Werbeagentur AG, Zurich/Switzerland
GF/CD: Danielle Lanz
AD: Marcel Schläfle
Beratung: Nathalie Jakober, Sebastian Durband
Production: Markenfilm Schweiz AG, Zurich/Switzerland in Co-Production with Sehsucht GmbH, Hamburg/Germany
Director: Ole Peters
Producer: Christiane Mülstegen, Uli Scheper
Concept & Character Design: Julius Brockelmann
Art Department: Axel Brötje, Hannes Geiger, Vitaly Grossmann, Anja von Harsdorf, Dominik Wieschermann
3D Lead: Markus Geerts
3D Artist: Daniel Jahnel, Timo von Wittken, Heinrich Löwe, Sebastian Welti, Martin
Chatterjee, Jakob Schulze-Rohr, Dimosthenis Vagias, Dirk Mauche
Compositing: Florian Zachau
2D Artist: Beatrice Wellenbrock
Making-Of: Axel Brötje, Nils Wesch
Musik: Alex Kirschner, kirschnermusic GmbH, Zurich/Switzerland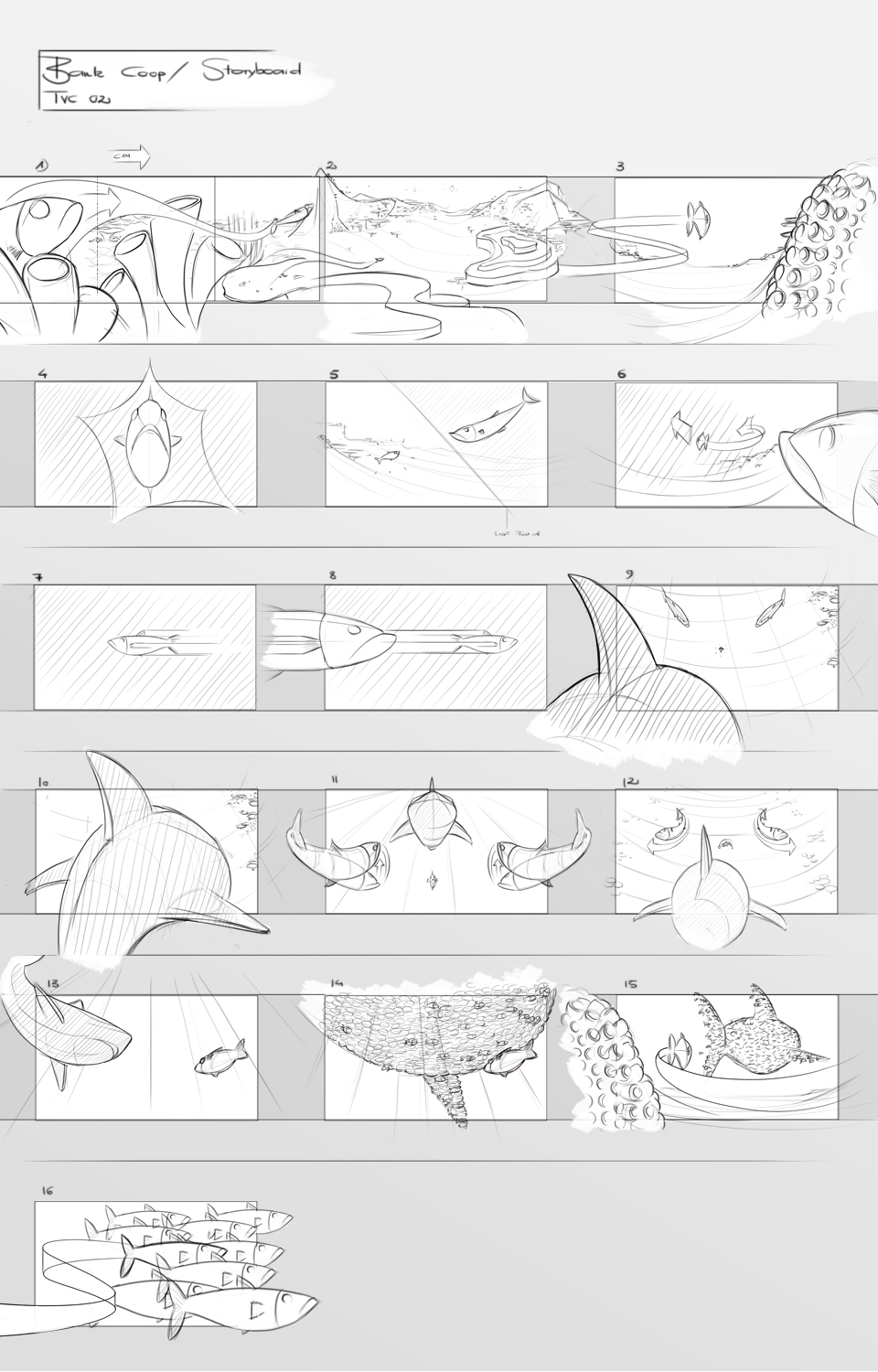 COOP "Underwater World 2013" (Herring vs. Shark) from Sehsucht on Vimeo.
C r e d i t s
Client: Bank Coop AG, Basel/Switzerland
Marketing: Mathias von Wartburg (Leiter Competence Center Marketing),
Barbara Guertler (Leiterin Kommunikation)
Agency: Ruf Lanz Werbeagentur AG, Zurich/Switzerland
GF/CD: Danielle Lanz
AD: Marcel Schläfle
Beratung: Nathalie Jakober, Sebastian Durband
Production: Markenfilm Schweiz AG, Zurich/Switzerland in Co-Production with Sehsucht GmbH, Hamburg/Germany
Director: Ole Peters
Producer: Christiane Mülstegen, Uli Scheper
Concept & Character Design: Julius Brockelmann
Art Department: Axel Brötje, Hannes Geiger, Vitaly Grossmann, Anja von Harsdorf, Dominik Wieschermann
3D Lead: Markus Geerts
3D Artist: Daniel Jahnel, Timo von Wittken, Heinrich Löwe, Sebastian Welti, Martin
Chatterjee, Jakob Schulze-Rohr, Dimosthenis Vagias, Dirk Mauche
Compositing: Florian Zachau
2D Artist: Beatrice Wellenbrock
Making-Of: Axel Brötje, Nils Wesch
Musik: Alex Kirschner, kirschnermusic GmbH, Zurich/Switzerland